The New Classics
How Soho Diner put a spin on quintessential Diner dishes.
12/17/2019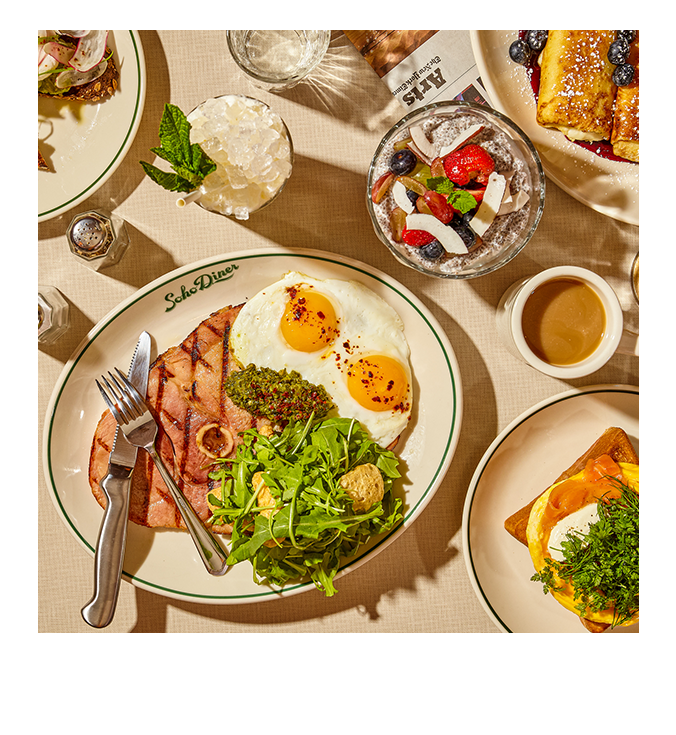 As a native New Yorker, chef and restaurateur Ken Addington grew up in diners. "It was definitely part of my youth. We went to church in Brooklyn Heights and there was a diner there that some of my friends would go to after Sunday school," he says. "They're gathering places that you could go to with your kid and get a milkshake or hang out with your friends and be in a more casual spot. That's definitely something I appreciate about diner culture: its democratic openness."
Creating casual yet elevated menus designed for people and communities rather than just food critics has become a theme for the man behind classic eateries such as Five Leaves in Greenpoint. He hopes that Soho Diner will be similarly embraced by locals, along with hotel guests, travelers, and late-night revelers.
"In a bygone era, diner food was generally pretty unhealthy, a slapped together meal that you'd fill yourself up with while you were with company. I think the difference with us is that we're trying to take the diner vernacular and upgrade it a little bit," he explains. "People want their hamburger and their pancakes, but they might want a vegan pancake or a gluten free hamburger…the diner has given me some more parameters to work with, which is actually great for a creative person. It's been fun to have some structure and to be playful within those lines."
Here, Addington shares some of his favorite diner dishes and how he's updated them for contemporary tastebuds.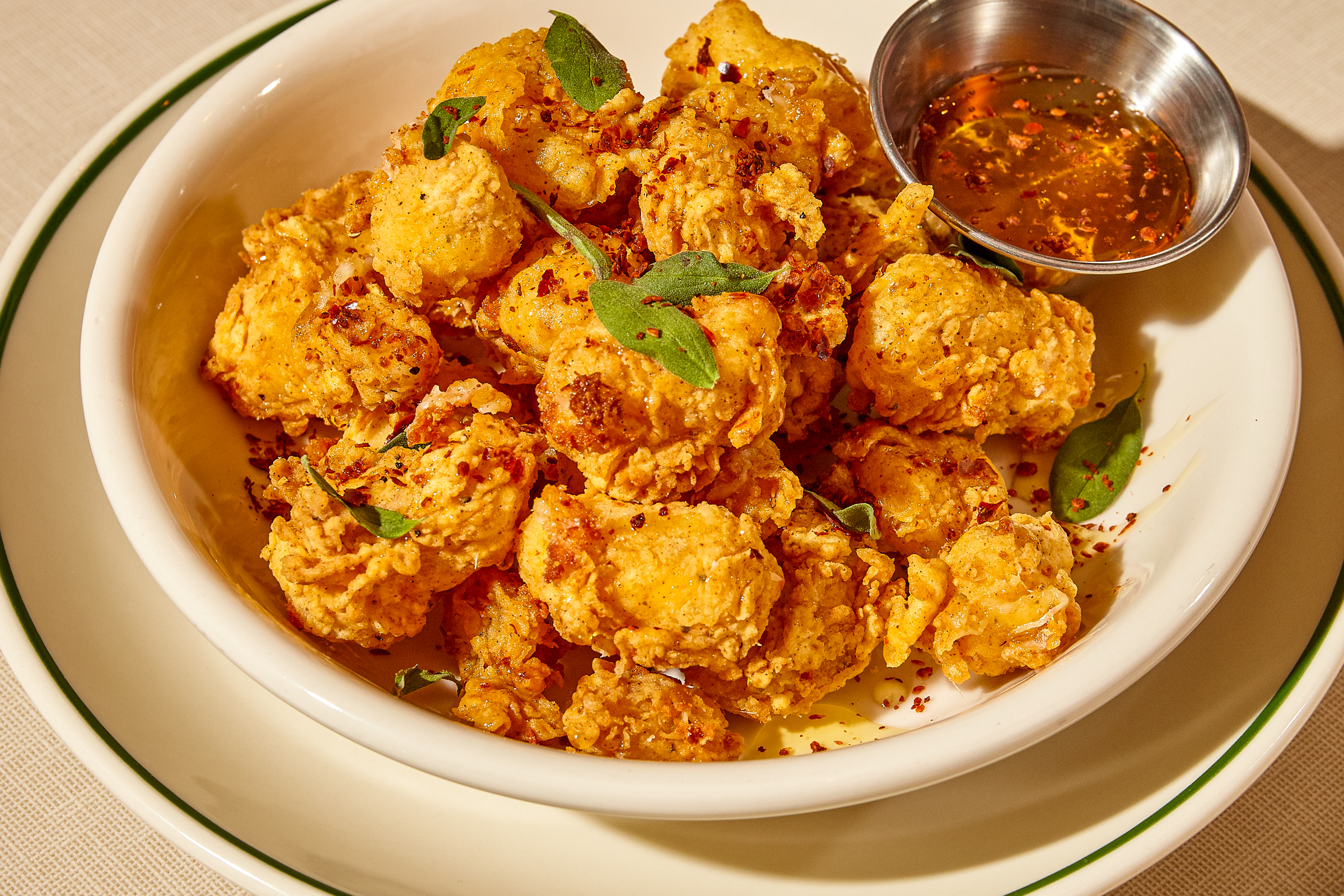 Mozzarella sticks
"The snacky food at diners is a big deal and it's generally fried everything," he says. "Fried mozzarella sticks are an example of a dish that often isn't made using quality ingredients." Addington riffs on the greasy-spoon staple by using fresh cheese curds that hit the spot without the morning-after regret. "We're frying them in more of fried chicken style, in a double buttermilk batter, slightly spiced. They're much flakier and lighter." The traditional marinara sauce has been replaced with spicy habanero honey and fresh marjoram. "It serves the same purpose, it cannot pretend to be a healthy item, but it's definitely a lighter fresher, more thoughtful version," he says.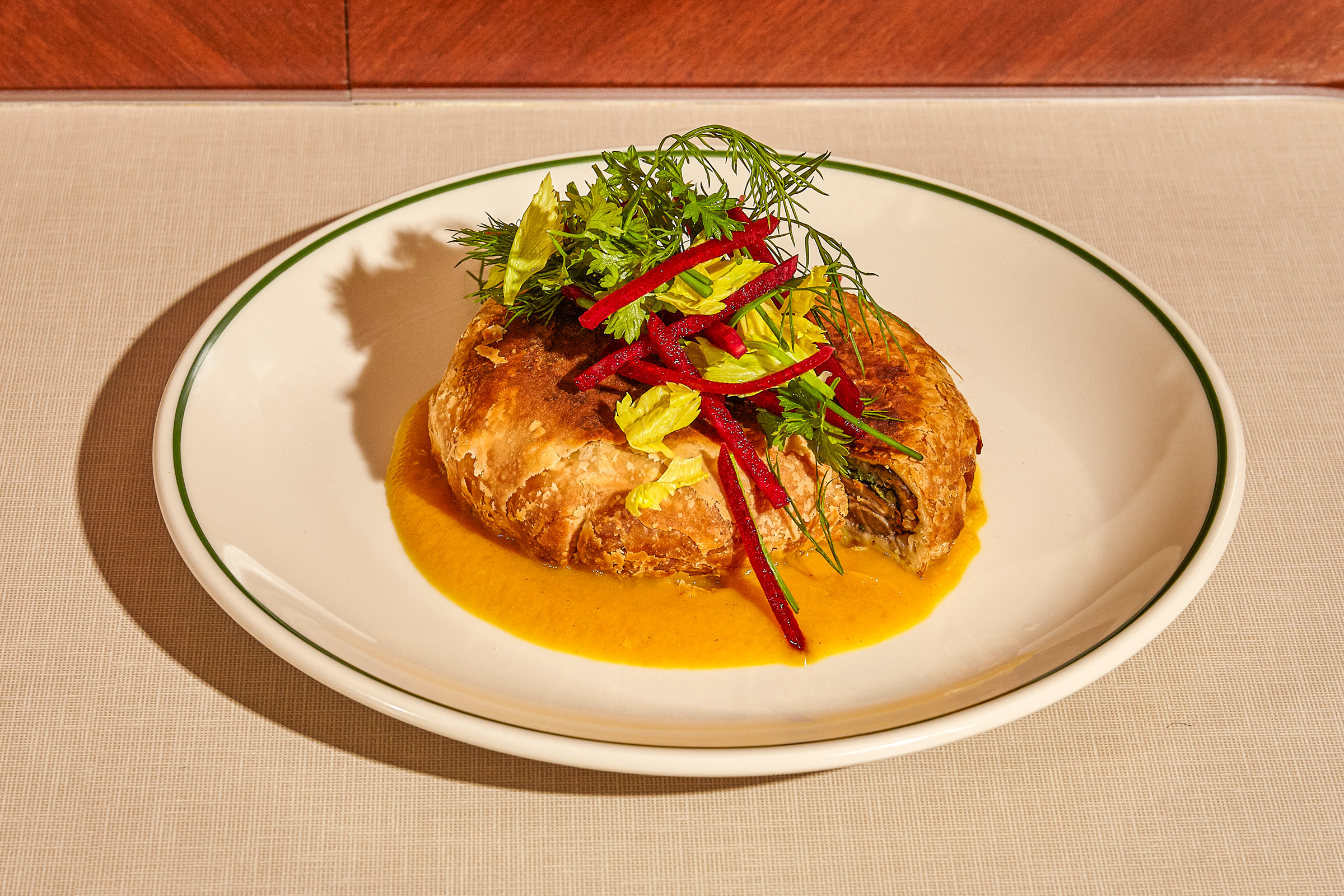 Knish
"We wanted to have a vegan option that wasn't just an afterthought, not just a stack of vegetables on a plate," says Addington of the diner's variation on a typical Jewish snack. His potato knish made from kasha (toasted buckwheat) potato, mushroom, spinach and herbs comes with a yellow beet and mustard sauce. "It's very pretty on the plate but there's also a fresh element — a little bit of spice and a little bit of sweetness to cut any richness from the knish."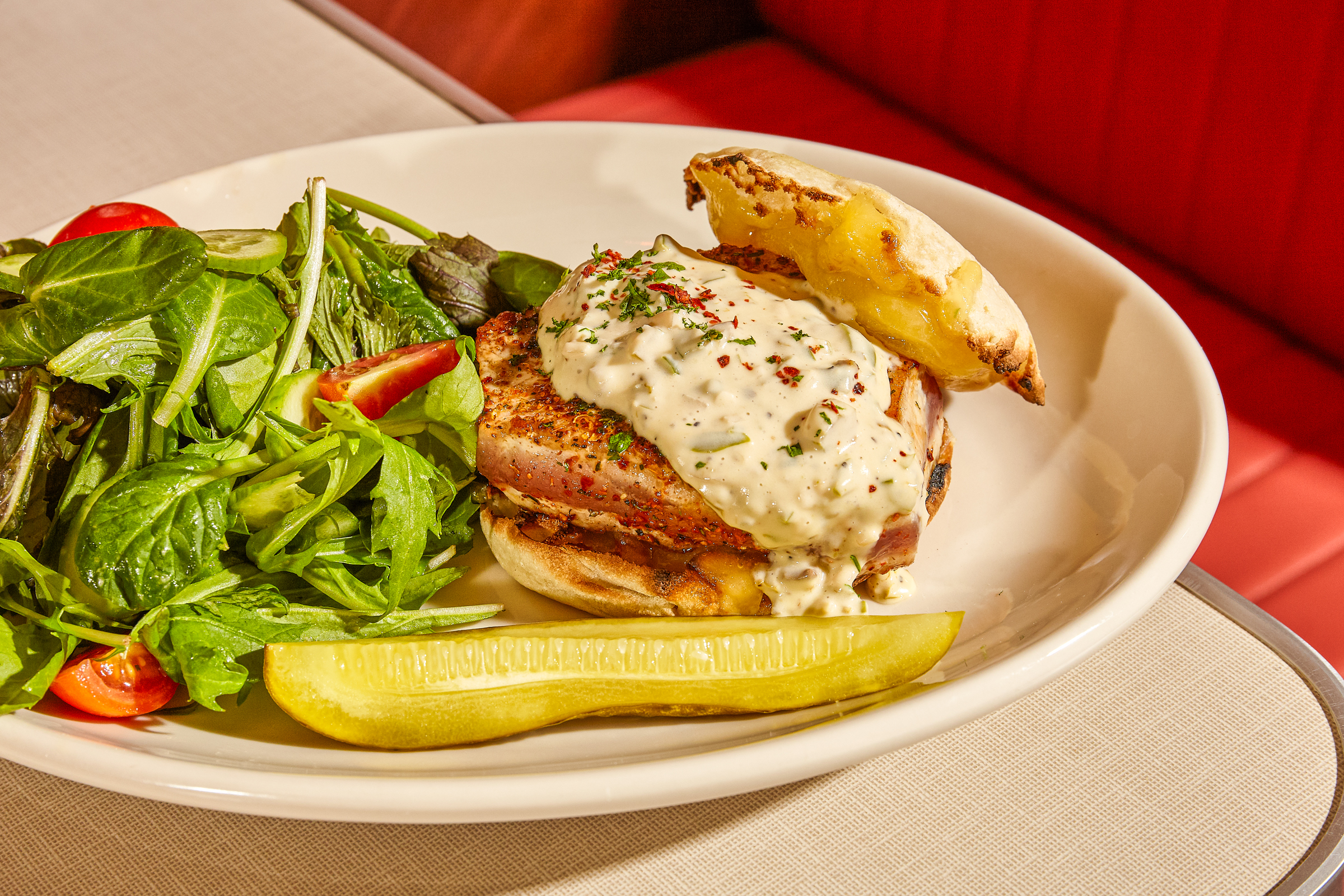 Tuna melt
"Another item that we like is a play on a traditional Montauk-style tuna melt," says Addington of a fish dish that thinks outside the can. "In Montauk, the fisherman are bringing in tuna all the time and they're just cutting hunks off the fish at the local spot by the docks and giving them a quick sear, then serving them with a little tartar sauce and cheddar cheese on an English muffin. We're taking that a little step further by seasoning it a bit more aggressively, adding the aged funk of cheddar cheese and the salinity of the tartar sauce."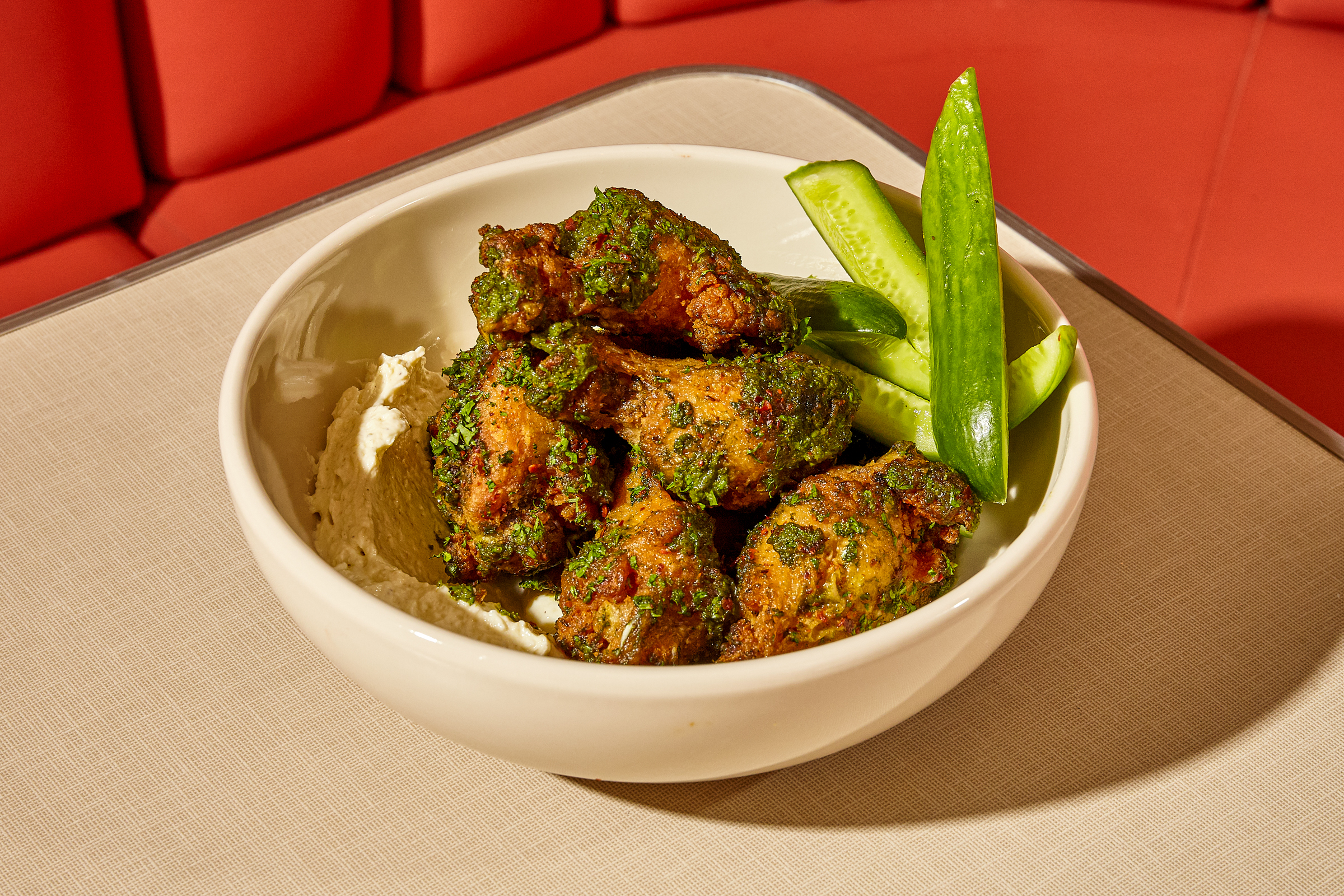 Hot wings
You can't have a diner without wings, but Addington takes them in an unexpected direction by drawing on his travels through Morocco. Instead of a red hot sauce, he uses a Middle Eastern-style schug (herb and chili sauce) and serves wings with a side of pickled cucumber and labneh in place of celery sticks and blue cheese sauce. "It seemed like a funny idea but I think it has an elegance and a whimsy to it that speaks to what we're going for here," he says.
Blintz
Pressed to choose a favorite menu item, Addington singles out the blinz – a modern twist on the traditional Eastern European, cottage cheese-stuffed crepe. "Also borrowing from the Jewish tradition, but we're making it with burrata," he says. "We're doing a lighter, blueberry and preserved lemon sauce on there that I think is a really delicious, subtle play on a traditional blintz."
---