Diners on Film: Classic Cinematic Moments
Take a look at our favorite films that share iconic diner sequences.
04/30/2020
Diners are a classic staple of American Culture. The first iteration of the Diner was in 1872, Walter Scott sold food out of a horse-drawn wagon, from there the diner shifted form into the typical exterior we're now used to. The earlier ones were made from converted railroad cars and all shared a common theme – a reliable place one could go to for fast and casual food and counter service. The inside of the classic diner is filled with booths and one long sit down counter and usually, a jukebox is playing tunes. You can picture it in your head, the line cook wearing white in the kitchen, the waitress in a pressed uniform with an apron coming to take your order. The order? Usually a cheeseburger with French fries and a milkshake or a coke! You'd be hard-pressed to find a town in America without at least one diner. Naturally, a film will overlap with the concept of the diner within American cinema. Numerous movies have iconic diner sequences because it is deeply ingrained in American society. Let's take a look at a few films that share this classic trope.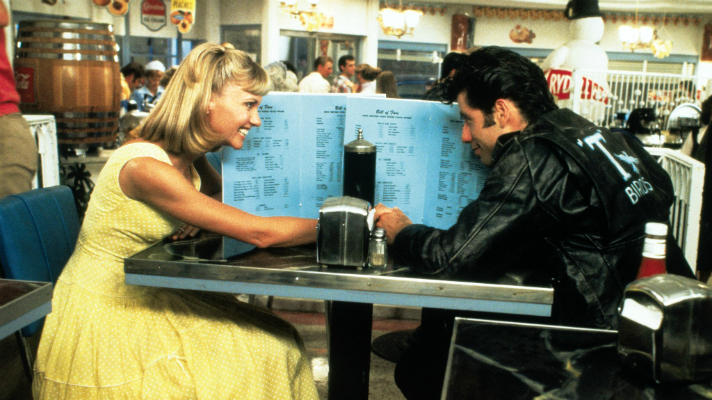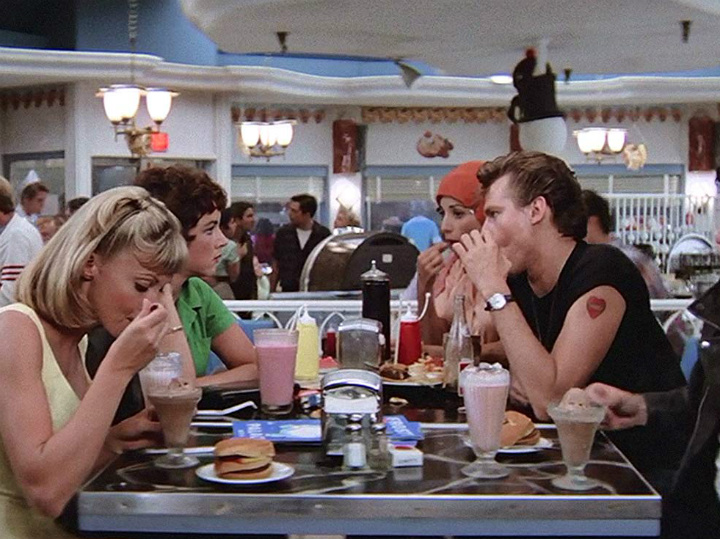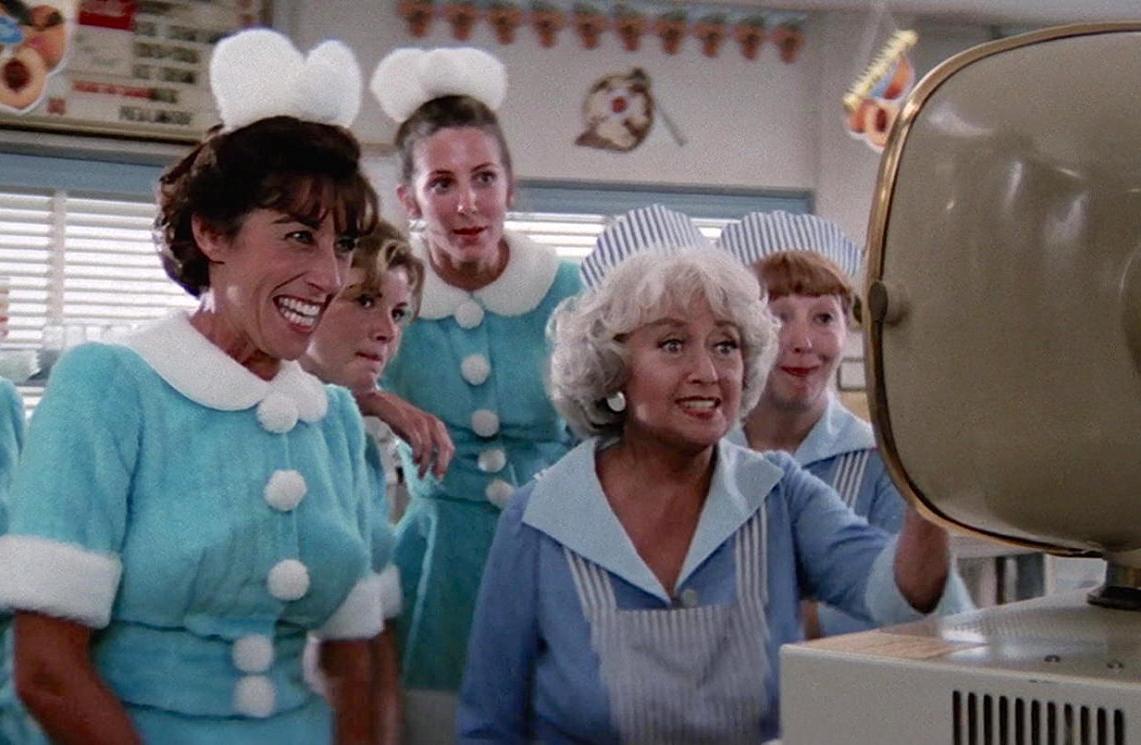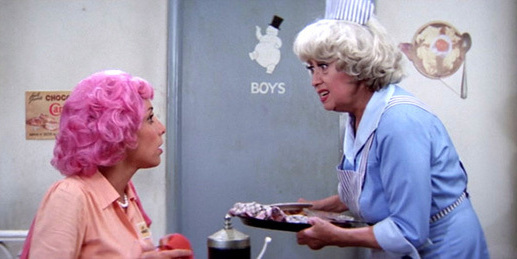 Grease 
What's a late 1950's greaser flick without a diner scene? This scene is the big reveal, as Danny (John Travolta) brings his summer lovin' Sandy (Olivia Newton-John) to the diner, and all of his friends are there. Kenickie gets stuck with the bill and Rizzo throws a milkshake in his face. Classic!
Five Easy Pieces
In between two of Bob Rafelson's most memorable films, Head and King of Marvin Gardens is Five Easy Pieces. The story follows a once privileged piano prodigy turned blue-collar worker, Bobby Dupea (Jack Nicholson), who finds out his father is ill and brings his girlfriend Rayette Dipesto (Karen Black) on a cross country road trip to go visit him. They stop at a diner, where the customer isn't always right and ends with Bobby telling the waitress to hold the chicken between her legs and then throws their drinks everywhere.
When Harry Met Sally
Rob Reiner could do no wrong in the '80s and '90s with classic hits like This Is Spinal Tap, Stand By Me and The Princess Bride. When I was a kid, When Harry Met Sally was on the TV all the time. The orgasmic scene when they are at Katz's Deli is probably more famous than the movie itself. The best line: "I'll have what she's having".
Diner
This 1982 film was directed by Barry Levinson and stars Steve Guttenberg, Mickey Rourke Kevin Bacon, Paul Reiser, and Ellen Barkin. The film takes place in 1959 and the title refers to this group of friends' favorite late-night hangout, who reunite for the wedding of one in their group. It's a story that explores how relationships evolve and change over time.
Pulp Fiction
The opening of Pulp Fiction really gets your blood thumping when Honey Bunney (Tim Roth) and Pumpkin (Amanda Plummer) jump up on their booth with their guns raised and announce "All right, everybody be cool, this is a robbery!" and goes straight into the song Misirlou by Dick Dale. Sad that this diner has since been demolished.
After Hours
"My Husband was a movie freak." After Hours is one of my favorite Scorsese films that has flown under most people's radars. Paul Hackett (Griffin Dune) plays a Manhattan yuppie who is having an extremely crazy night out. He meets Marcy Franklin (Rosanna Arquette) at a diner and then it just gets weirder and weirder from there. A perfect film that encapsulates what downtown NYC used to be like in the 1980s.
Swingers
This is a 1996 film directed by Doug Liman and written by Jon Favreau, starring John Favreau and Vince Vaughn. Fun fact – this was Vince's first major role and put him and Jon on the map. The title is based on the diner that Jon and Doug used to frequent a lot. Much of the film was actually penned inside the diner, and some very pivotal scenes in the movie take place inside there.
Moonlight
This 2016 Academy Award "Best Picture" winning film directed by Barry Jenkins is a coming of age story told in three chapters: Little, Chiron, and Black. In the third chapter "Black" the main character goes back to Miami as an adult and reunites with his childhood friend Kevin who works at a Diner. The last few moments in the film take place at the diner, with Chiron sitting face to face with his unrequited love from childhood are powerful scenes. Watch this movie! 
Mildred Pierce
This famous film noir was filmed in 1945 and directed by Michael Curtiz (same director as Casablanca). Starring Joan Crawford, it is a heavy crime drama, but it's all about the main character Mildred opening up her own restaurant, a classic American Diner. It celebrates a lot of the American ideals of needing to become successful and being your own entrepreneur but definitely watching this movie for the drama of this wild love triangle.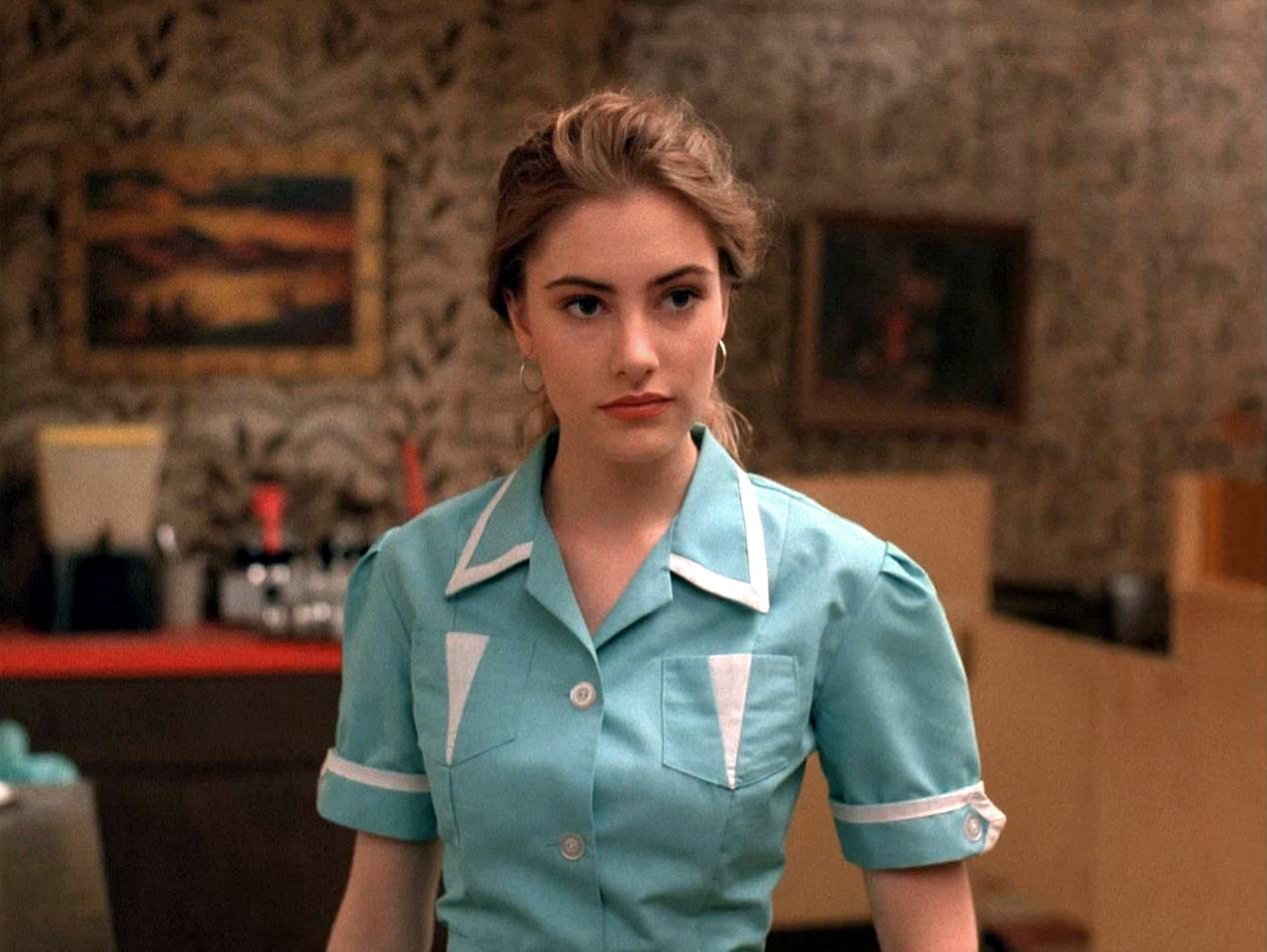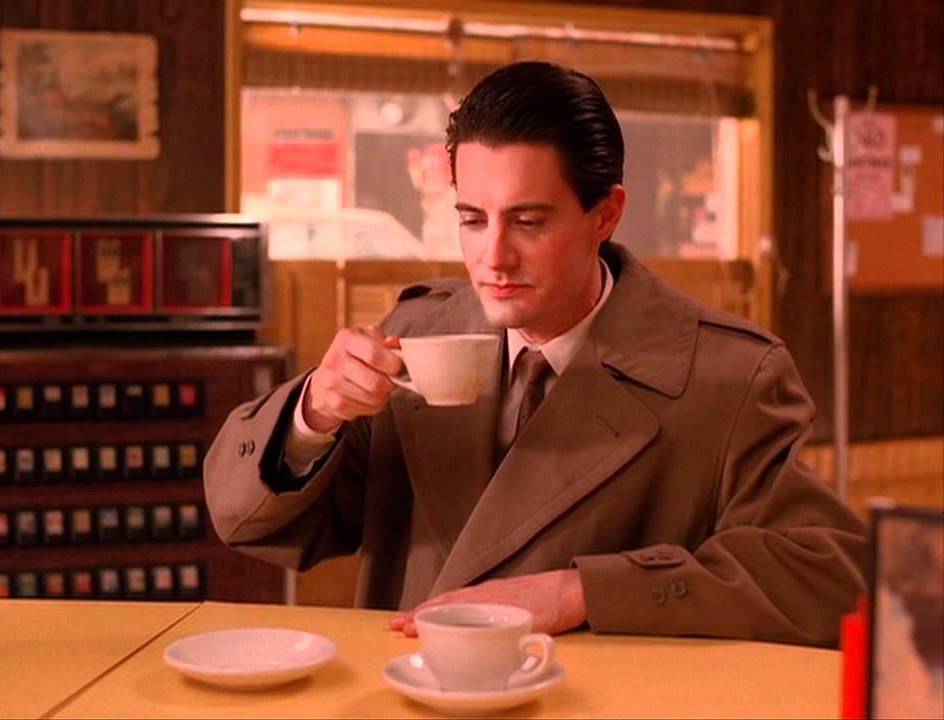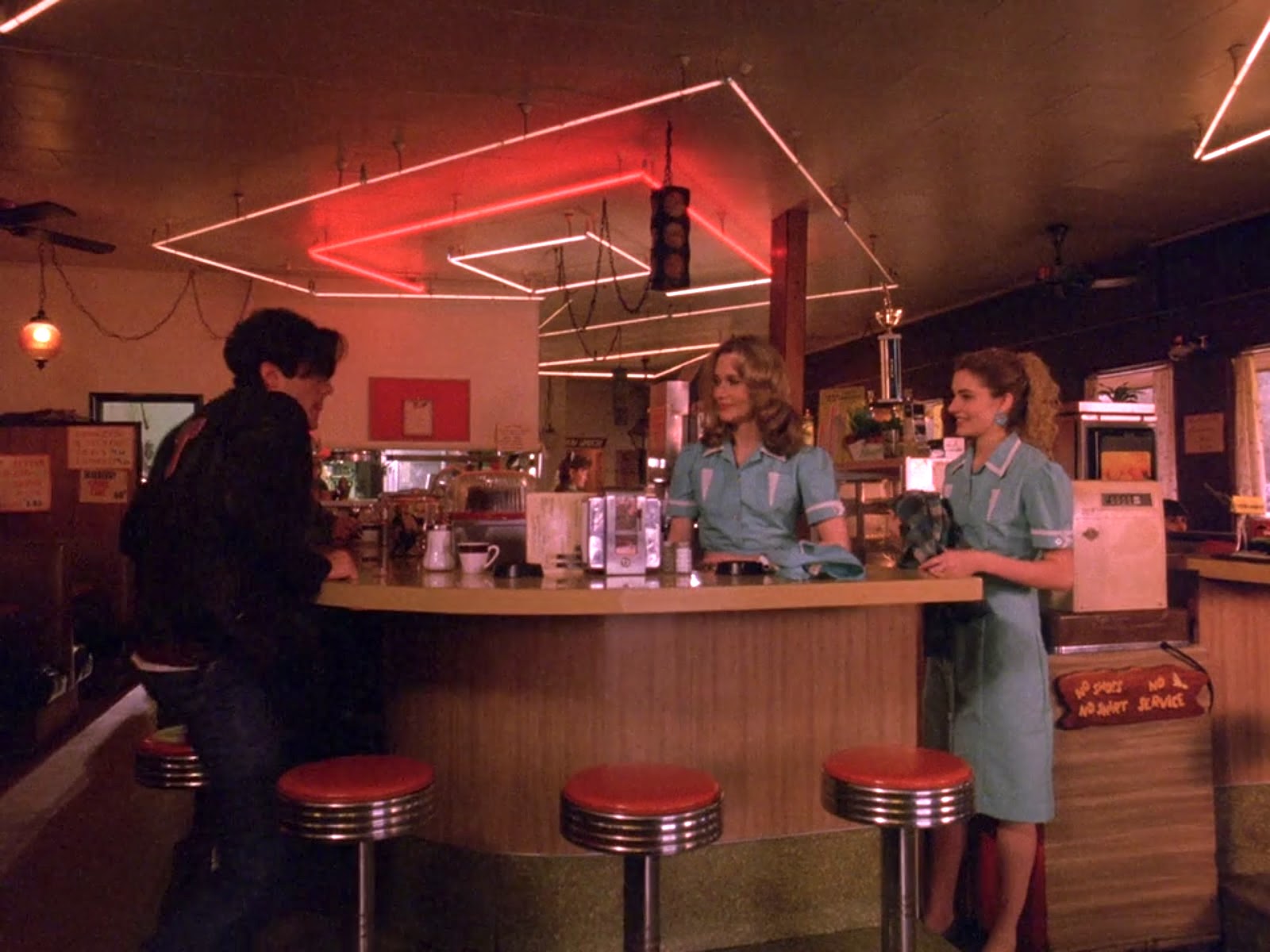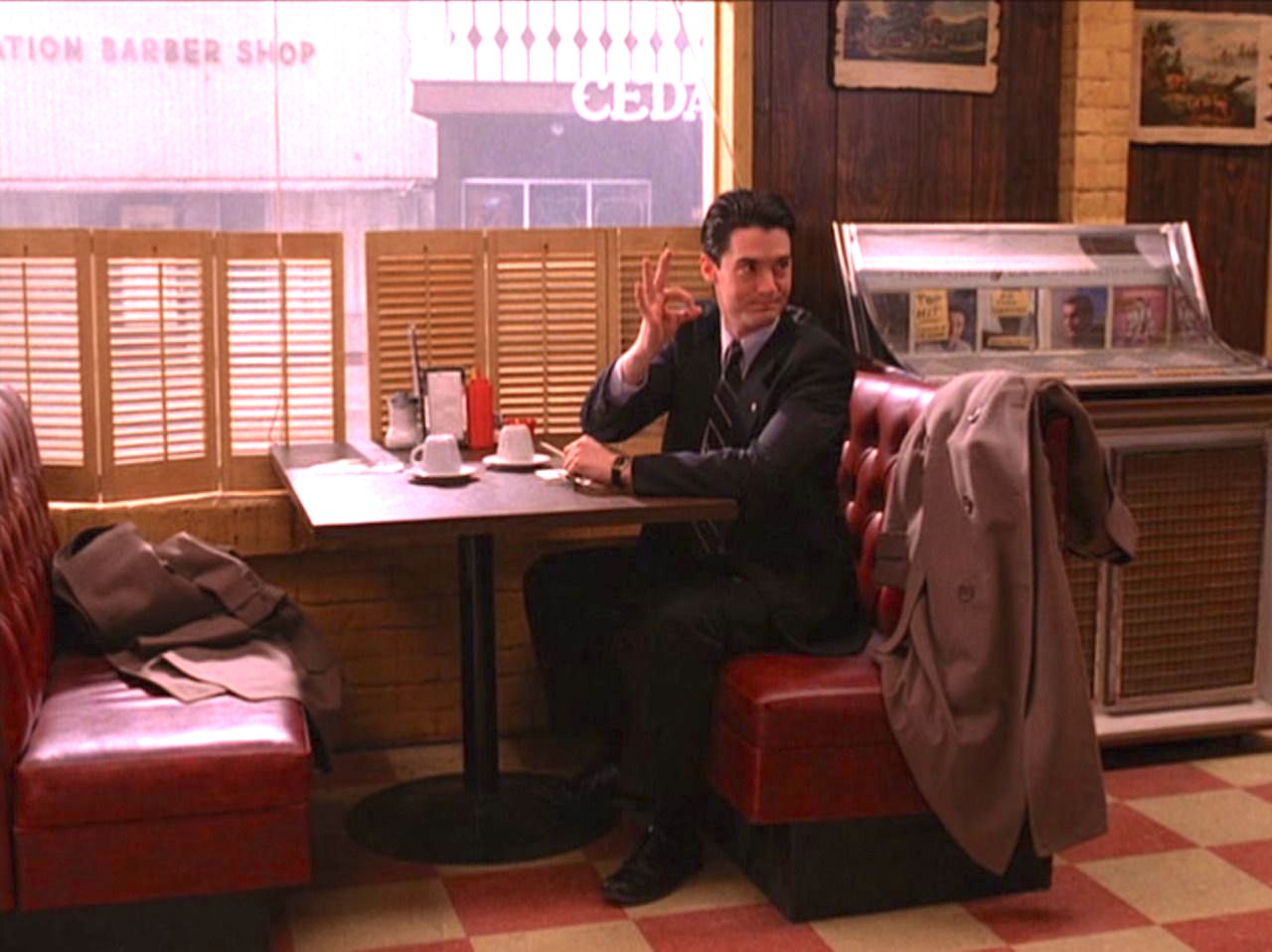 Twin Peaks
This is an American horror mystery television series by David Lynch. It is classically Lynchian, even though he didn't direct every episode. Did you know Diane Keaton directed an episode? The Diner (Double R Diner) in Twin Peaks is perhaps one of the most iconic Diner's within cinema, from the coffee and cherry pie Agent Dale Cooper (Kyle MacLachlan) orders to the classic uniforms the waitresses wear.
Words by
Alix Brown and Illyse Singer
---