Serving Up The Hits
Master mixologist Jeremy Oertel spills the tea with Soho Diner.
07/05/2023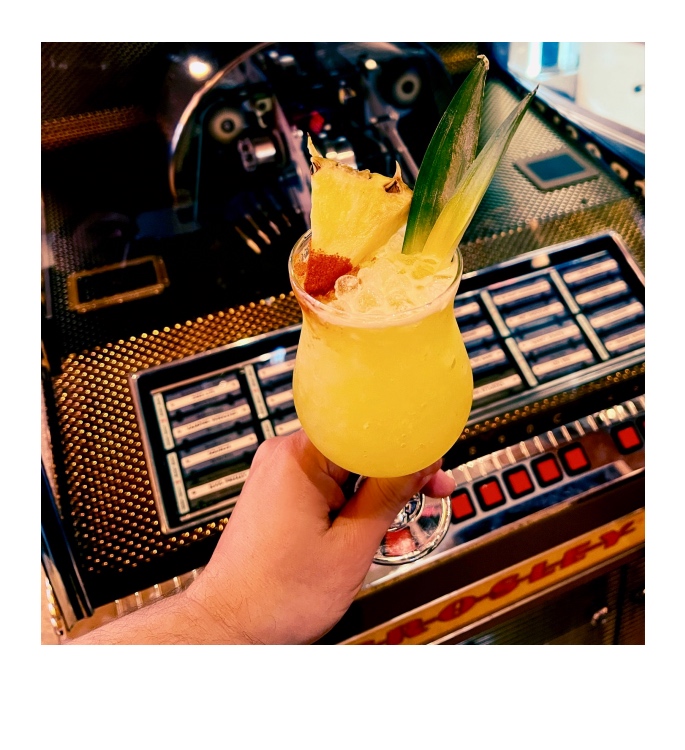 What got you into making cocktails?
My wife, Natasha David, and I were both working in restaurants to support ourselves while we were pursuing other things. We actually met at a restaurant called Corner Shop in NOHO. The space below the restaurant became a "Speakeasy" and that's where we were first exposed to the joys of a properly made cocktail. We were both very lucky to be able to train under some of the best bartenders in the city and one thing led to another and we ended up partners in cocktail bars in Manhattan and Brooklyn. We also have a beverage consulting company called You & Me Cocktails.
What inspires you and what is your creative process like?
Basically, my wife and I will sit on the couch and think about what the place is about. We do most of this work together. We just did a place in upstate New York that's like an Alpine scene. So it's like 'let's find everything that we can find that's from that region. We think about the flavors and the cuisine and all that and then try to incorporate at least one or two of those ingredients in every cocktail that we make. We just think about the different styles of drinks that we want, that we need because every menu typically needs something like an old-fashioned style drink or an upstirred cocktail or something refreshing on the rocks, something with tequila. We'll try to figure out the mix of the styles of cocktails and just start thinking about the different flavors and how they might work into it.
Is there a routine that you follow when you're working, or do you have a favorite record that you listen to for inspiration?
We always have music on during the creative process. It can be what we are listening to at the moment or one of our all-time favorites. My wife always wants to listen to Taylor Swift but I'm a big Radiohead fan. They always kind of get me going, along with Elliott Smith, but if we can't agree we just leave something on in the background.
Is there a basic foundation when you're creating any cocktail?
Yeah, and it's usually some sort of classic recipe that you play around with and modify it with different flavors and things like that.
What's the favorite cocktail that you've ever made?
The Brancolada. It's the drink I did at a bar in Brooklyn where I used to be a partner. It's like a piña colada kind of thing that we put in a slushy machine. It was very popular and people from all over would come just to have it.
There's something about having pineapple in a drink…
Yeah, I was thinking very escapish but I know it was very popular.
Looking at foundations, what would you say was special about the program that you created for Soho Diner?
I think it's fun. I just think it's colorful. All the drinks are just more… We're leaning on the fun side, the approachable side. I think there's a good mix for everyone for whatever style of drinking you want to do. We've even got some good mocktails like the Orange Julius—a fun drink (orange, lemon, vanilla cream, seltzer) but you can add booze.
Of all the cocktails you created for Soho Diner, which would you say creates more of a retro experience?
The NY Fashioned, which is a twist on an old-fashioned.  It's just a mix of rye whiskey, simple syrup and more that's got these sour cherry bitters in it. Pretty classic, you know. It's got the fruit inside, in the drink which is a little more retro—most people don't do that now.
Is there a difference between winter drinks and summer drinks and what is your preferred season, especially Soho Diner?
Oh yeah for sure. It's totally different flavors. You just don't want to use watermelon and passionfruit in winter. It's more exciting to do the summer cocktails for me because there are many more flavors and colors to choose from.
Then what are some of your favorite winter drinks?
Things like the Old-Fashioned, Manhattan and stuff like that. There's a classic, modern classic drink called the Penicillin, if you want something refreshing, but still it's got all the spices, ginger, cinnamon, and things like that.
What are some of the unique ingredients that you've incorporated into the program at the Soho Diner that we probably will not find somewhere else?
In the summer, we do a really fun strawberry Frosé, which is great and popular. It's a frozen drink where the base is Rosé and then we add strawberry to flavor it but that's one of our most popular drinks. Oh yeah, then there's the Teenage Kicks, a fun, spicy tequila drink (habanero, passion fruit, crème de peche, pineapple, lime).
Which cocktail would you recommend at Soho diner right now. What would be your call for a drink?
Yeah. I would do the Teenage Kicks—the passion fruit habanero cocktail. You've just got to come in, start with that and move on. It's a good opening move.
So, having done this for 13 years, what advice would you give to other mixologists who are looking to start and not just to start but to excel and make a name for themselves in the industry?
I would just tell them they have to learn the classic recipes. Get the right foundation before getting to all the crazy stuff. Just learn to make those classics really well and then you can create the best combinations
---